"Imagine…it's the 1st tee & you have no nerves, you have a 12 footer to shoot your personal best score and you calmly drain the putt, you play in competition as relaxed as you do in casual rounds – confident, rhythmic, effortless golf"
With the new Whole Mind Golf course…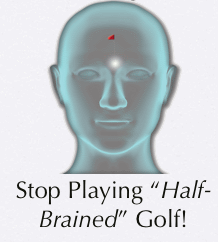 You'll drop strokes right away and you'll hit your best shots more consistently than ever before
In this game transforming course you'll also learn;

How to conquer first tee jitters and erase performance anxiety

3 keys to gaining a fine tuned mental focus, toughness and control

Dissolve anger and play with an amazing sense of inner joy

Master how to play under pressure as calmly as in casual rounds

Shoot the absolute lowest scores of your life.
If you golf competitively at all then you know the things that can happen before, during and after a golf tournament. Many players get so rattled and keyed up they can't sleep. Like this young collegiate golfer I used the Mind Power Breakthrough process with…
Here's what you get in this incredible, breakthrough game improvement mental game coaching package!
2 Whole Mind Golf eBooks – Here's what you'll learn in the coaching eBooks:
Breakthrough techniques in unleashing the power of your subconscious mind and makes scoring effortless
Simple to use strategies to unlock your imagination to hit those "trouble" shots with ease and amaze your golfing partners!
The 4 stages of mastery – this is the staircase that walks you into your zone and gets you shooting your personal best scores consistently
Powerful Visualization => Master the art of seeing your shots in advance. This is critical to ALL successful shot making and scoring.
The Keys to Focus => Specific mental game principles that dial in your mind to its highest level and keep you focused from the first shot to the last putt
The End of Distractions =>Techniques & drills that let you ignore anything around you. You only notice the moment you're in: the shot itself!
Channeling your attention =>Not knowing this is costing you strokes right now. You are leaving strokes on the golf course each and every round without it.
The Power of Beliefs! => This is a real breakthrough in understanding how beliefs are formed and exactly how to design new ones that support your greatest desires as a player.
Read more about it here: